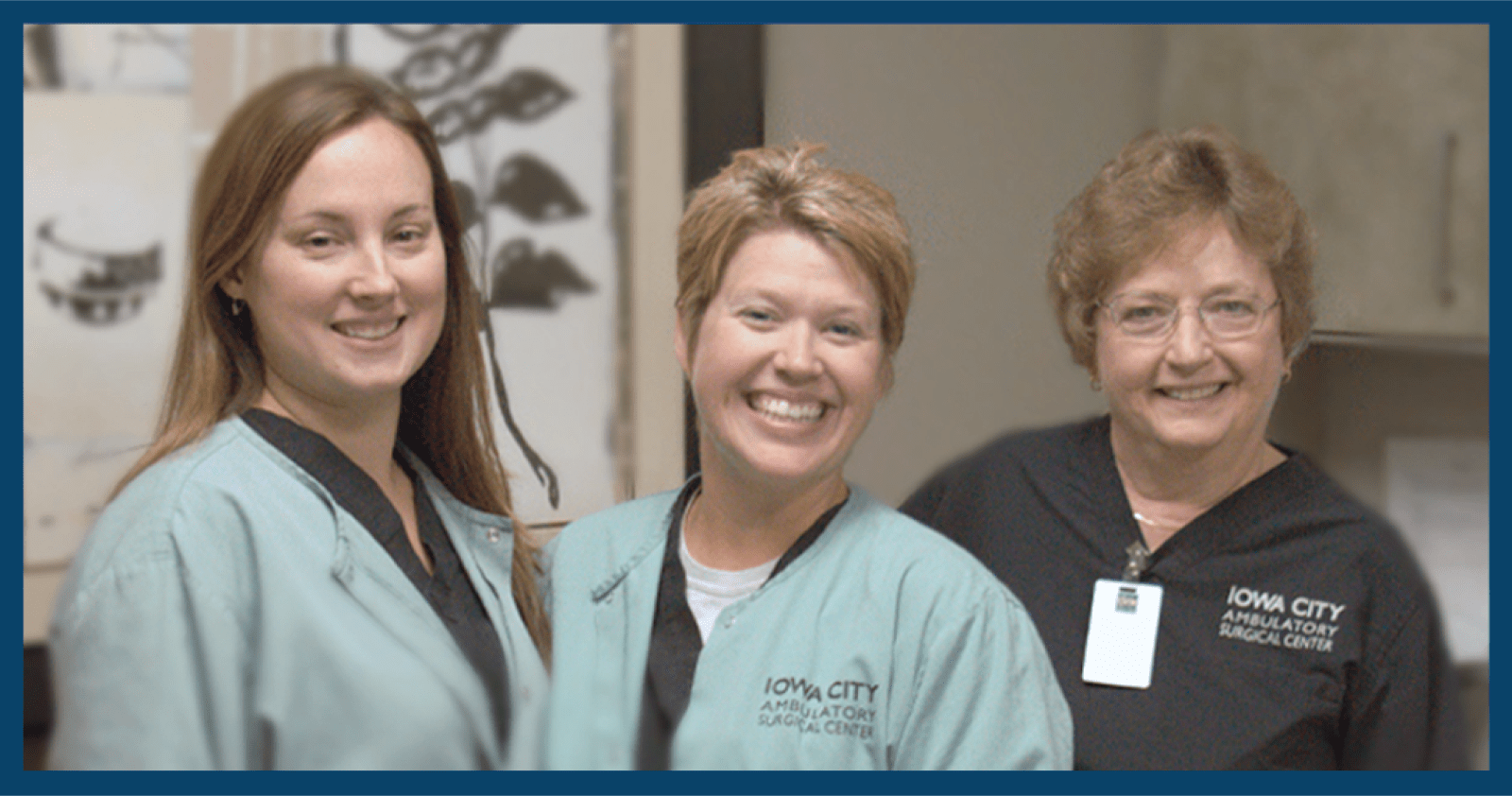 Iowa City ASC Philosophy
Iowa City Ambulatory Surgery Center (Iowa City ASC) is recognized as one of the Coolest Places to Work. This is an award we're very proud of. Every member of our team is valued and appreciated, from skilled nurses to dedicated staff.
About Our Nursing Staff
As one of Iowa's leading ASCs, we value expert clinical care. But one of the things that sets us apart is that we emphasize a positive culture.
We're a team and a family.

We work collaboratively to make Iowa City ASC a positive clinic.

Each member of the team supports and recognizes each other.

We have a lot of fun! You can tell because there's almost always somebody laughing.
We are a team and a family, working collaboratively to make Iowa City Ambulatory Surgery Value a positive clinic. It's more than a job for each of us. It's a home away from home.
Caring for Patients
Our culture of caring is also central to patient care areas. Our patients notice and sense the positive atmosphere, and they appreciate being in a smaller venue. This makes working with patients a joy instead of a hassle.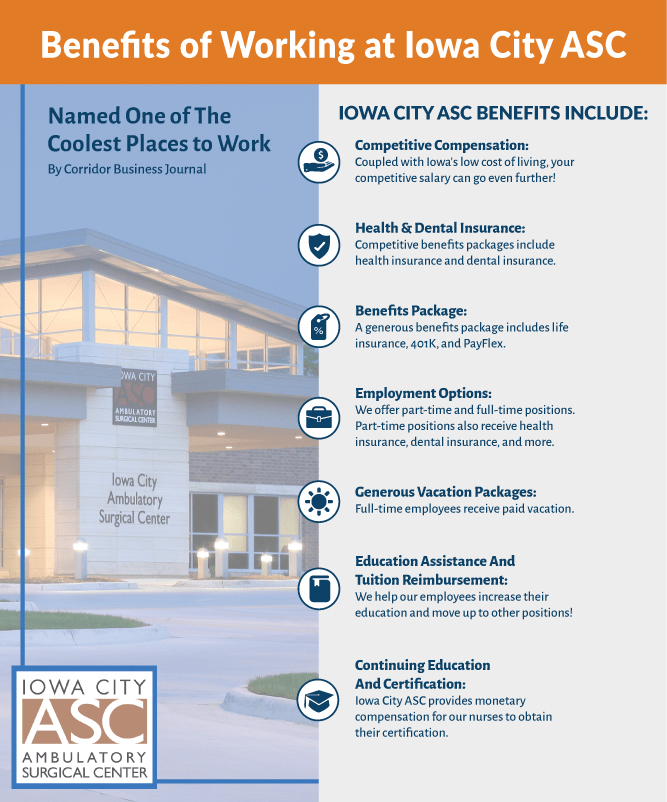 Benefits of working at Iowa City ASC
The benefits of working at Iowa City ASC include:
Competitive compensation:

Coupled with Iowa's low cost of living, your competitive salary can go even further!

Health & Dental Insurance:

Competitive benefits packages include health insurance and dental insurance.

Benefits Package:

A generous benefits package includes life insurance, 401K, and PayFlex.

Part-time employment options:

We offer part-time and full-time positions. Part-time positions also receive health insurance, dental insurance, and more.

Generous vacation packages:

Full-time employees receive paid vacation.

Education assistance and tuition reimbursement:

We help our employees increase their education and move up to other positions!

Continuing Education and Certification:

Iowa City ASC provides monetary compensation for our nurses to obtain their certification.

Why is Iowa City ASC a Cool Place to Work?
"I've never worked at a place where things were so happy all the time." – Iowa City ASC Employee
Iowa City ASC has been recognized as one of the "Coolest Places to Work." And there are even more reasons why. 
The doctors are amazing to work with and treat staff really well; that makes any service line a joy to work on.

You're allowed to show your personality–and that's what makes it fun.

Community wellness improvement projects: this includes a blood drive, a food drive, and more.

You'll work with a team that works together incredibly well.
Iowa City ASC is a welcoming community. When you join our team, you're setting yourself up to grow into your next challenge with the full support of the ASC team. Discover the amazing things you'll do next!

Your Home Away from Home
At Iowa City ASC, we consider ourselves all part of the same family. Whether you want to join the nursing team, the front desk staff, or more, you will become part of a community that makes every day more fun and enjoyable while improving the lives of your patients.